We celebrated our 10th We Love Learning summit in style.
What a day! Not only was it Valentine's Day and our 10th We Love Learning summit, but it was also our first face-to-face one since Covid and it was great to be back. Holding it on Valentine's Day was no coincidence. Love was why we were there: to celebrate and share our love of learning with likeminded L&D professionals and experts.
To celebrate this milestone event, it was hosted in a new venue, the beautiful and quirky Platea Madrid. An old theatre that has been modernised, it is often used for corporate events. And at our event it felt like both. With makeshift 'stall' seats, along with packed balconies above, it had a theatre vibe. But with our branded coloured lights – purples, blues, pinks – and a fully decked out bar along one side, it certainly had some nightclub vibes going too. Not to mention the raised stage, which made the speakers look and feel like rockstars.
With the gentle piano music mixed with the buzz and murmuring of the guests' voices, it had a relaxed atmosphere from the get-go. And it was clear that everyone was excited to be back in person, to be able to socialise, network and catch up. As people, the social beings that we are, we were definitely back in our element.
Our speakers
We had a truly international line up of speakers, representing Belgium, Ghana, England, Spain and Argentina. These fantastic experts were there to share their insights and inspire L&D professionals to try new things and to think in new ways when it comes L&D training.
We were joined by:
Feeding our minds
Ousman Umar kicked off the event with a rousing and inspiring speech, relaying his harrowing journey escaping Ghana for Europe, which took him 10 years.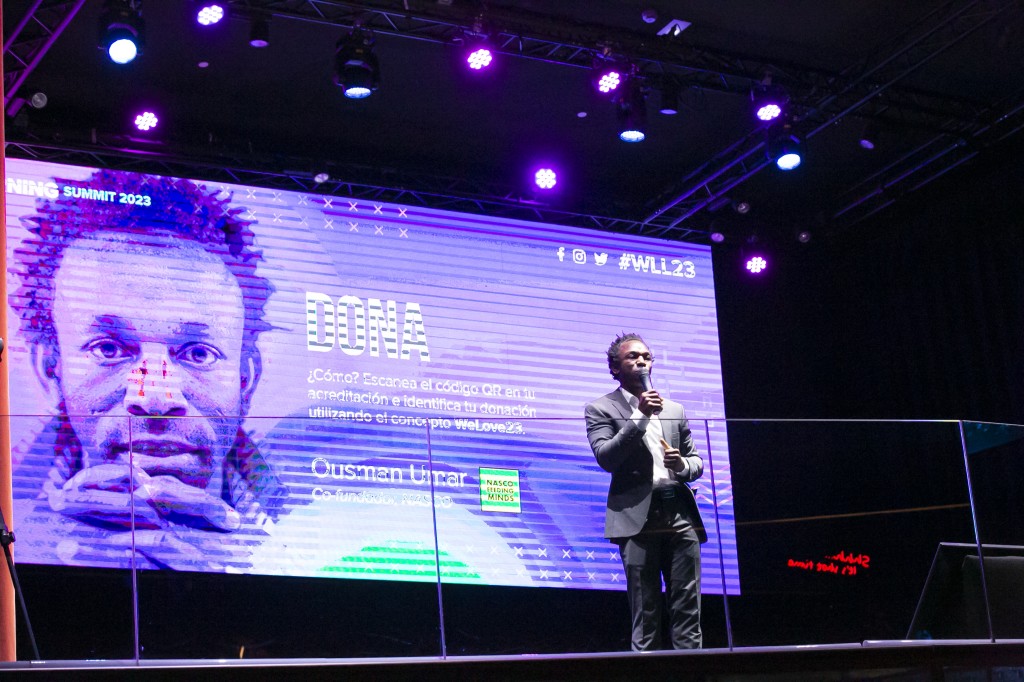 His journey taught him that education was the key to changing lives, and that's what he set out to do. It's his mission to bring education to towns, communities, and villages in Africa, believing the most important thing you can do is feed people's minds. "Giving food will satiate hunger for a day, but if you feed their minds, you're satiating a hunger for many years," he shared. And with the 53 IT schools his organisation has opened, which have taught over 60,000 pupils, his success is remarkable.
It was an incredible story, and the perfect beginning to an event which was all about inspiring others to learn.
So, what did we learn? With such rich, engaging sessions it's hard to summarise them. But here is a flavour and a key takeaway from each.
Learn from our children
Katja Schipperheijn wants to inspire, provoke, and change how we learn.
In her speech, she encouraged us to turn to our children, and as someone who works closely with children, she knows first-hand the power this can bring. She recognises how different their lives are, and the ways in which they learn, and instead of despairing over it, we should try to understand them, to listen to them and see what inspiration we can take.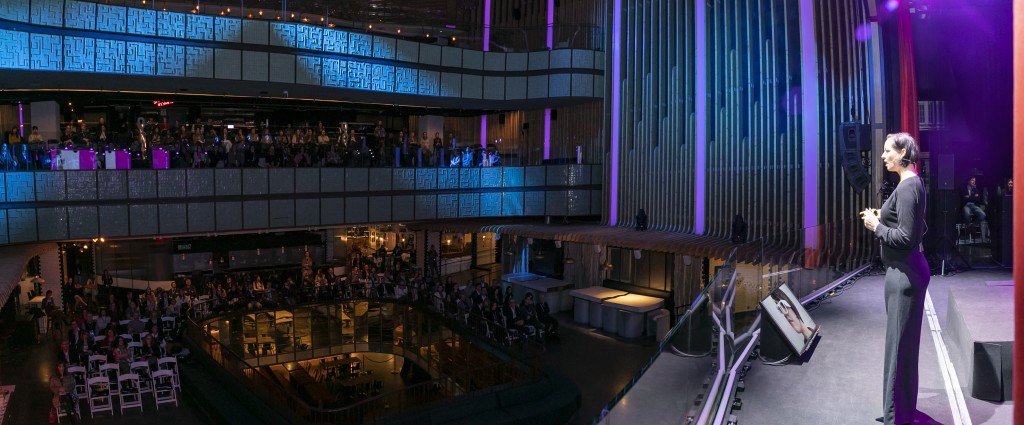 "The future of learning has caught up with us," she told us. The ground-breaking technology are no longer the future, but the present. And our children are emersed in it. Through platforms – TikTok and Roblox being two she mentioned – they are gaining new skills that schools aren't providing them and we shouldn't lose sight of this. We have to accept that learning is now so much than we do at school; if we don't, society will lose big talents.
The future is AI and data
Donald Taylor, a familiar face at the We Love Learning events, talked about the findings on his latest Global Sentiment Survey, the results which had only been released the day before.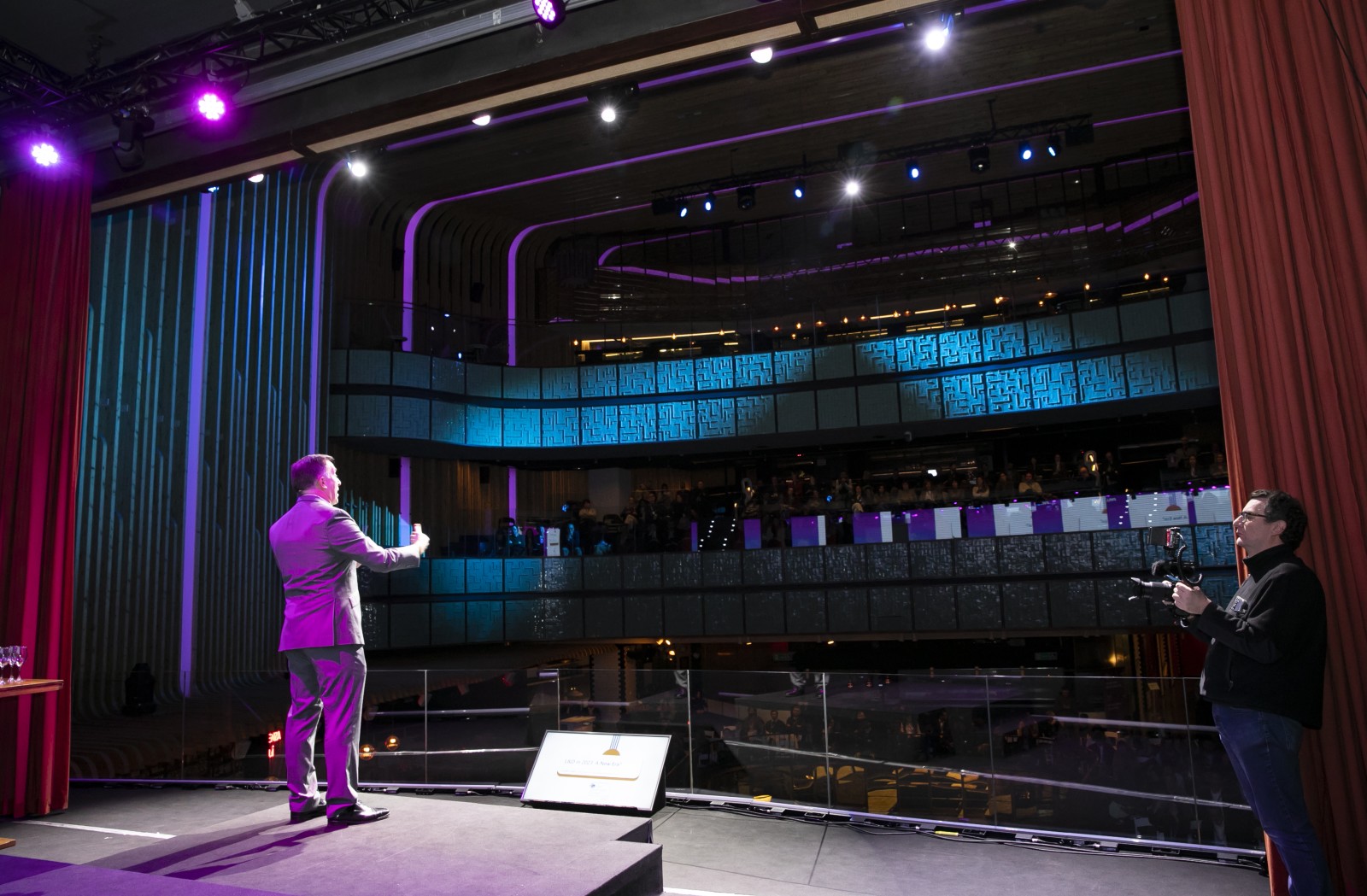 Each year, to assess how trends are changing and how L&D professionals feel, he always asks the same question 'What will be hot in workplace L&D?', and this year the clear winner seemed to be AI (which jumped from #12 the previous year to #2) and learning analytics.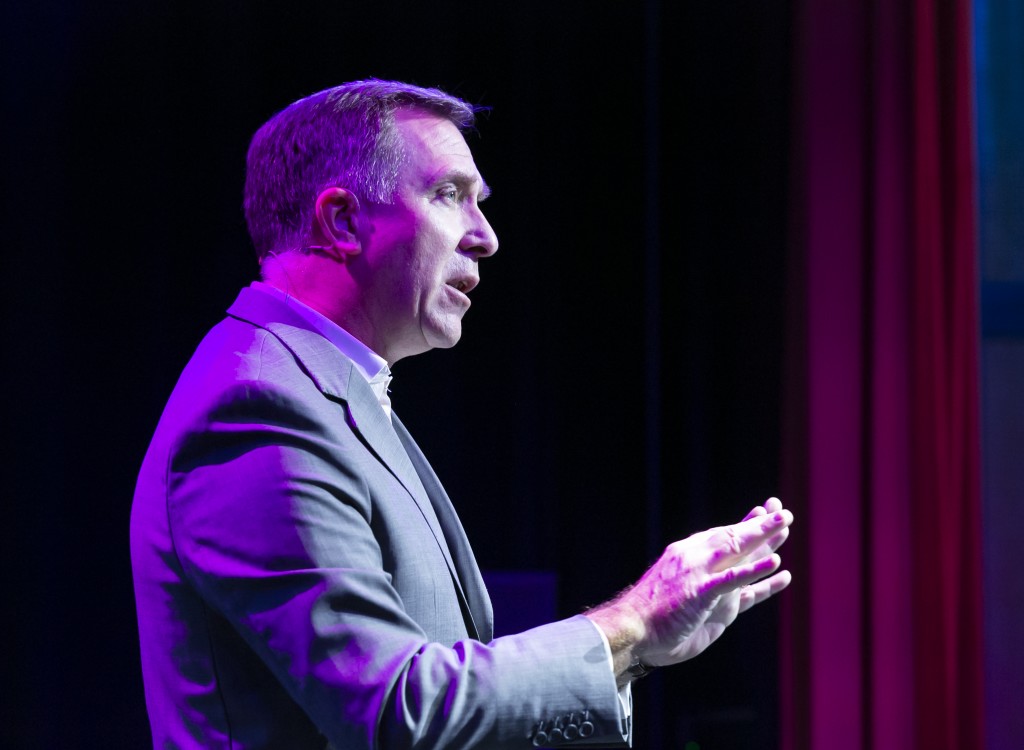 That's right, it seems that data is on the L&D professional's mind. We're excited about it and recognise it's potential. But, he asked, do we know how to use it?
And are we ready for AI? He's not sure. He explained that AI is at the lowest quality that it's ever going to be, meaning that it's only going to improve. And though both AI and data have the ability to change the way we do L&D, the only way we can make the most of it is to take the time to learn how best to work with it.
What happens when you bring training leaders together?
Our panel discussion, chaired by Gonzalo Guirao Sagi-Vela, explored people, learning, and technology, and how we can find a balance. 
Between them, our speakers revealed how training has changed, how digital training has been embraced by their very different audiences and organisations, and what challenges and worries they face.
The varied speakers provided a wonderful opportunity to hear first-hand how their approaches compare and why. How a governmental organisation, whose average age of their staff is 50+ years, uses digital training compared to a company whose average age was 29, and whose staff are more naturally emersed in technology in their daily lives.
Add a further comparison with a university whose professors, lecturers have found ways to introduce digital training into their classes, and you can imagine how rich in insights this panel discussion was!
It was a real demonstration of how there is no 'one size fits all' when it comes to digital training. You have to find what works for your organisation. As Begoña López-Cano of Inditex explained, "It is essential that your training is related to your business. How do your people want to work? How do you adapt to that?"
Thinking-outside-the-box training
Whereas everyone was talking theories and training in general, Paul Tran, of Estrella Galicia, talked through their ground-breaking training programme, La Universidad de la cerveza ("The Beer University"). Their aim was to digitise the beer culture and encourage more people to achieve the Cicerone certificate.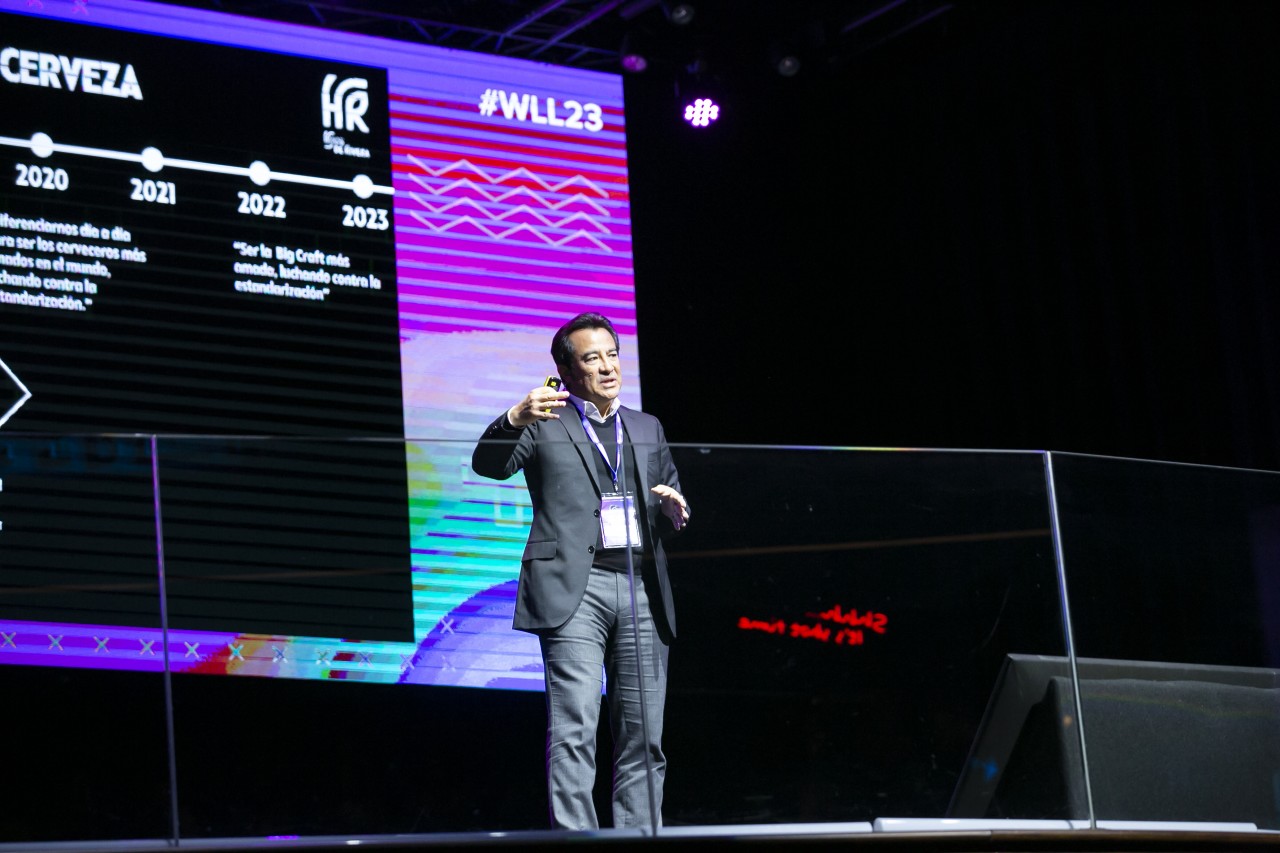 And they did just that by creating a project around their renowned beer museum. It was a revealing example of training that gets people excited, that takes an experience they know, a culture they love, and builds training around it.
Blowing our minds
Who knew a thumb war would be so much fun as an adult? Well, Mariano Sigman promised us that it would, and the laughter that quickly echoed around the room showed that he was right.
His talk was all about challenging our assumptions. Not only do we come to conclusions very quickly, he explained, often by interpretating data we take from our environment, how we feel, or past experiences, but we often come to the wrong conclusions. In fact, the assumptions we make about ourselves, such as the belief that we're not good at something, are the reasons we stop ourselves from learning.
The good news is that we can change our minds, if we're willing to put the time and effort in. If we're willing to combine our old beliefs with new information and come to new conclusions.
And that's a wrap. The event had everything – inspiring speakers, free drinks, a chance to catch up, network and meet likeminded people, and even thumb wars – what isn't to love?
Of course, we are already working on the next edition.
Photos by Julia Robles.